As more people try to downsize their business paraphernalia,  lugging around a laptop from meeting to meeting is becoming less desirable. However, how do you deliver your PowerPoint presentation with something less than a fully-enabled laptop?
One solution is to turn your PowerPoint  into  an online and interactive Flash video. Online Flash presentations will allow your audience to view the presentations well after your work is over, and render a presenter's laptop unnecessary. I have found this latter point particularly important since the university where I lecture has a dubious network storage system (where professors store their .ppt/.pptx files at their peril), but an easy and reliable connection to the internet. And I don't own a laptop!
I now deliver all of my classes with the assistance of an online Flash presentation, a presentation (like this) that can be viewed at a later date by students who need to review the lecture. [To be sure, I only use an outline for my presentations; those who skip classes will not be satisfied.]
As with most technology solutions, this one isn't perfect. If your delivery venue lacks an internet-enabled computer connected to the projector, you'll need a Flash-enabled smartphone or tablet, or the laptop you were hoping to leave behind. I've actually tried one of my lectures with a Blackberry Playbook, and I was pleased with how it worked. As a result, carrying a small tablet will not be an onerous compromise. You'll also need an online webhosting solution, but most people who work in a business or a school should have access to a company/school server. Alternatively, most ISP companies like Shaw and Telus offer complimentary online hosting. I suspect most people don't realize that their ISP email accounts usually have corresponding internet hosting that's more than sufficient to host their PowerPoint presentations. My personal solution is to run my own website, using a webhosting service from Montreal that offers unlimited storage and access for $50 a year.
For a PC user like myself, I've tried many different products to convert PowerPoint into Flash. I'd recommend two Microsoft partners that have created free products that integrate directly into PowerPoint: authorPOINT Lite and iSpring Free. They both create tabs within the PowerPoint ribbon, like below: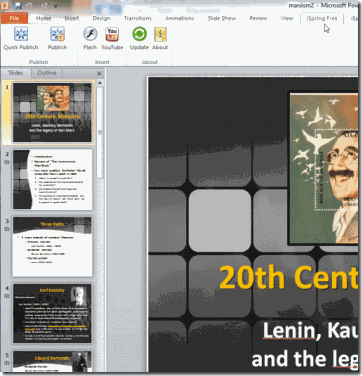 The former is my personal favourite, as it seems to render all of the effects and transitions flawlessly. Unfortunately, it no longer appears to be supported, and only converts PowerPoint 2007 and earlier. I now use iSpring Free, since it supports PowerPoint 2010 and allows me to click directly on the presentation. The only flaws with iSpring are that some of the transitions are a bit wonky when "Flashified", and the resulting Shockwave video is too small to be properly projected onto a screen (like below). My solution for the latter issue is simple. With the help of Dreamweaver or Notepad, I just go into the html file that iSpring Free generates, and change the size to 1024x 768 (plus whatever's needed for the skin you choose). So much for paying $199 for the Pro version!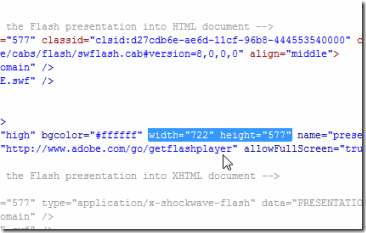 Anyway, I hope this helps. Please let me know about your experiences!