If you're not a fan of the online text-entry tool provided by WordPress, and you want to create your blog entry locally with a rich text editor, then Microsoft Office's Word 2010 is an excellent option. Word 2010 offers a blogging tool with most of the same functions as Word's standard text editor, and it allows you to write in a local environment without the need for a permanent online connection.
1. The first step is to connect your Word 2010 program to your WordPress blog; this requires one small but significant change to your WordPress settings. Go to Dashboard–Settings–Writing and, under Remote Publishing, enable the XML-RPC protocol. This will allow a local editing program like Word 2010 or Windows Live Writer to upload your entry with one click. [Word 2010 will upload to any blog site that uses the XML-RPC protocol, including Blogger.]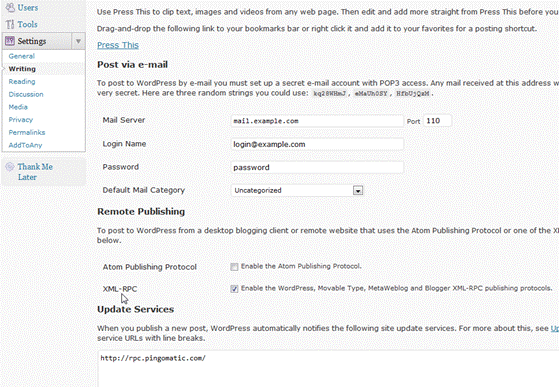 2. The next step is to open Word 2010. Go to File–New–Blog post, and then click on the Create button to the right. The first time you click on this button you will need to sign in with your WordPress blog address, username and password. After that, it should be automatic.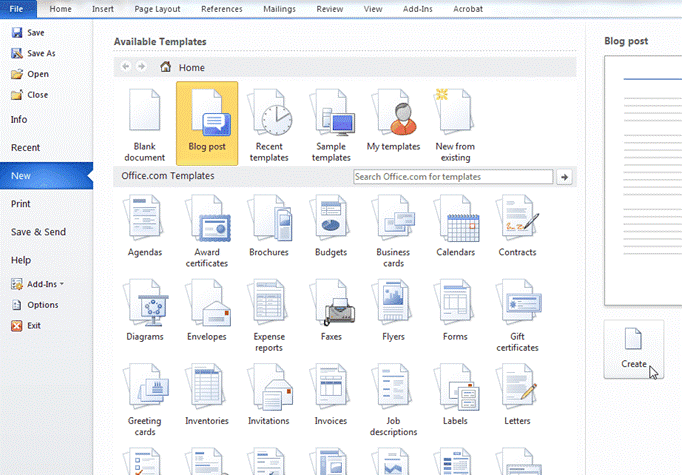 3. The subsequent blog window will offer you the familiar Word environment, complete with the ribbon. Almost all of the features that I use are available, including (on the right side) Spelling and Grammar, Thesaurus and Word Count.

4. The Insert tab provides you almost any item you may wish to insert, though I'm still unsure if Word 2010 will allow you to insert multimedia items like video.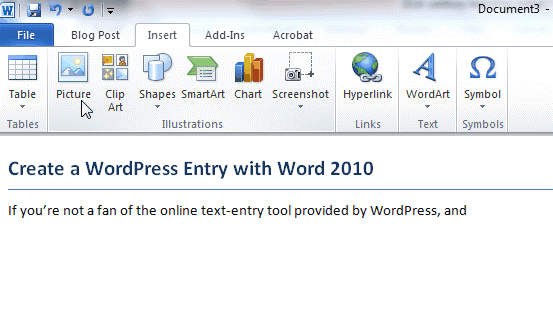 5. Press Publish on the left side of the Blog Post tab, and you should be a published blogger!
………………………..
Have you used Word for your blog? What were your impressions? Also, are there other text editors that can do the same thing? I'm curious to hear if Office 2007 and the Mac equivalents (Word 2008 and 2011) have the same features. In the next few weeks, I'm going to try the free Windows Live Writer, and compare it with Word 2010. Happy blogging!