As usual in the distributed learning (DL) world, the month of June is absurdly hectic. Students who've enjoyed the right to create their own learning schedules realize, at the end, that no right exists without a corresponding responsibility. And now – as their asynchronous bliss meets the realities of graduation, post-secondary timetables and the rigours of employment – their panic must become my panic!
In any case, I am returning to my blog with a multitude of ideas for the summer. The one topic that continues to dominate my thoughts is "21st century learning". In my last blog entry, I discussed the bait and switch nature of this latest educational bandwagon. The Minister of Education and his underlings are baiting us with golden visions of individualized learning, where students can follow their own pursuits and passions and be forever unshackled from the factory-like uniformity that supposedly characterizes (and impedes) our modern education system.
My response is one of deep suspicion. In my opinion, the vision they propose is extremely unrealistic. The amount of time and resources it would require is almost immeasurable, and will certainly not be available to a branch of government that the Minister has said will only receive "incremental funding" in the near future.1 Instead of personalized learning, I fear we will instead be switched to something less savoury: correspondence courses within brick and mortar institutions.
There are others (like here and here) who see an even more insidious game afoot. For them, this 21st century bait and switch is actually a Trojan Horse. Hidden inside the promises of "creativity and innovation", "[t]ailored learning" and "[a]daptability"2 are the banal realities of 19th century power politics: the breaking of unions; the end of work-hour, seniority and autonomy provisions; and the centralized control of professional development. Recent talks between BCPSEA and the ministry have focused upon the apparently inflexible nature of the current teachers' contract, and how it's an obstacle to 21st century learning. Indeed, in a recent government presentation to the BCTF, the rather cryptic nature of government objectives has led to a real fear by teachers that 21st century learning is simply code for breaking the BCTF and imposing a Wisconsin-style work environment. Nobody really knows what the government objectives mean in concrete, policy-manual terms, but here are a few objectives that can spark your imagination:
We want the right teachers placed in the right positions. Qualified and suitable teachers – in best "fit" placements – lead to better learning

We want to ensure that school districts are able to make human resource decisions that are effective and efficient

We want to align professional development with teacher performance evaluations and school district policy requirements.
In the end, I am not entirely sure if the worst-case scenario is any different from the bargaining objectives of past Socred, NDP and Liberal governments. Perhaps the BCTF is ramping up the concern in anticipation of the upcoming strike vote. Nevertheless, I'll follow the old adage and "hope for the best, prepare for the worst". My apprehension about 21st century learning, not surprisingly, remains strong.
……………….
Another curious development related to the 21st century learning bandwagon is the colonization of the word "change". As a person trained in political philosophy and the politics of language, I'm fascinated by the politicization of the word. Perhaps "change" is destined to become politicized any time there are great struggles between groups seeking to preserve and those seeking to change the status quo, or between groups who have competing visions of the future. In the context of BC's education system, "change" has become weaponized. In other words, it has become a unit of rhetorical armament that is deployed at the first sign of dissent. What do you mean you oppose these policies? Why are you scared of change? Clearly you are an obstacle to 21st century realities! If you're a skeptic like me, you've doubtlessly encountered this threat response many times. Those who ask tough questions about policy shifts (such as the underlying assumptions, the actual costs, and the positive policies that may be discarded) are often cast as "resistors" to change. We are dinosaurs who care only for ourselves, and not "the kids". In other words, "traditionalists" are anti-improvement and anti-student; only the progressives care for the improvement of education and our children.
But notice what's happening. "Change" does not actually imply that the intended alterations are positive. Change is simply a difference or an adjustment of position. It's not a straight line of progress from the Dark Ages to Enlightenment. It could be meandering. It could ultimately bring us back to the starting point. It could send us backwards. It says nothing of the merit of that adjustment. In short, "change" means nothing.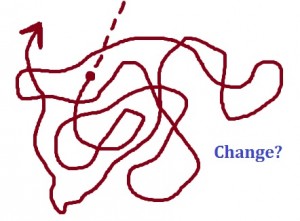 Yet, to the "change agents" who view dissenters as obstacles rather than valued interlocutors, their change is necessarily good. They've captured a neutral term and armed it with a more powerful meaning – goodness – that no one can easily oppose.
But this is nonsense. If I oppose your "change", it's because I believe your proposal is flawed. Just because you've invoked "change" does not mean I must concede its superiority. I believe my own position, which may or may not be the status quo, is better than yours. Amongst other things, I believe my position is better because it more accurately aligns itself with human nature, actual financing and/or the nature of institutions. And it offers less BS.
In the end, teachers ought to be very wary of "change", whether it's change for the sake of change, change that advances a person's career, or – in the worst case situation – change that masks a partisan, non-consensual agenda. Above all else, don't let others define their change as necessarily good change. If you do, and the BCTF is right about the government's desire for less union protection, then those who demand honesty and clarity will be the first to go.
____________________________
1. Abbott, George. "Opening Remarks", Digital Learning Spring Conference: Personalized Learning for the 21st Century. April 18, 2011.
2. Premier's Technology Council. A Vision for 21st Century Education. (http://www.gov.bc.ca/premier/attachments/PTC_vision%20for_education.pdf) Dec. 2010. Accessed 25 June 2011.